Our Encino Dental Office
At Gary Tobin, DDS, we pride ourselves on offering only the very best experience to our Encino, CA community.
From the latest in dental technologies to one-time treatment visits, we know you will walk out the door with a beautiful, healthy smile.
Comfort and convenience are the hallmarks of Dr. Gary Tobin's office operations.
To ensure your convenience below is the information you need about appointment scheduling, insurance acceptance, and billing.
Dr. Gary Tobin DDS
Cosmetic Dentistry in Encino, CA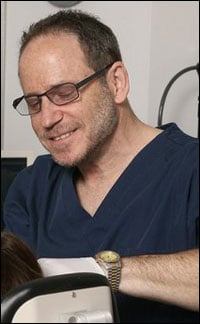 Dr. Gary Tobin was born and raised in New York. He graduated high school from Francis Lewis and attended Queens College for four years as an undergraduate. After graduation, he attended dental school at NYU College of Dentistry for another four years, where he graduated with his Doctor of Dental Surgery Degree (DDS).
Dr. Tobin was the director of clinical services at the Core-Vent Corporation and completed a two-year fellowship in Implantology at Brookdale Hospital in New York. He received specialty training in Anesthesiology at Mount Sinai Hospital in New York and taught Oral Medicine at the NYU College of Dentistry.
While in New York, Dr. Tobin met his wife Joyce. They decided to move cross country, moving to California in 1986. He and his wife have two lovely children, Daniel and Erica.
Dr. Gary Tobin has been practicing for 27 years and loves the field of dentistry. He is always looking to learn new techniques and strives to keep abreast of new dental technologies, adding digital x-rays, laser caries detection, and a computer software system that detects caries in a digital x-ray to his practice. He was the first doctor in the San Fernando Valley to own the CEREC in 2002, a machine that creates crowns right in the office for his patient's convenience.
At Gary Tobin, DDS, we are always accepting new patients and we look forward to continuing the goal of building beautiful healthy smiles.
Meet the Staff

Our professional staff at your Encino, CA dental office maintain the highest levels of accreditation and pursue ongoing education to stay abreast of the latest trends in dentistry.
Nancy Bell-Redmond, RDH
Nancy is one of Dr. Tobin's skillful hygienists. Her dad was a graduate from the University of Oregon Dental School who practiced in the San Fernando Valley. Nancy assisted her father after school in her teens, which began her peaked interest in dentistry.
Nancy attended Cal State Northridge pursuing a teaching career, changing careers back to dental assisting, then attending the WLA/UCLA Dental Hygiene School. Nancy was president of her graduating Class of 1982, successfully passing the National Boards In the 98th percentile and passing the California State Board in 1982.
Nancy's interest in health extends beyond the world of dentistry. She has been an avid yoga student for over 25 years; she has also taught post-natal exercise classes and will eagerly share her knowledge about enjoying a healthy lifestyle.
Nancy looks forward to making your dental visit to Dr. Tobin's office an informative and pleasant experience.
Celeste Heinrich Lyans, RDH
As a hygienist, Celeste has proudly continued her family's dental tradition. Her father, an orthodontist, has practiced since the early 1970's in Pennsylvania, where he currently teaches at UNLV. After receiving her Bachelors of Science at ASU, Celeste moved back home to attend dental hygiene school. In 2006, Celeste moved west to Southern California to be near family members, and worked in Costa Mesa for a couple of years. She started her LA adventure a few years ago and came to work part-time here at Gary Tobin, DDS.
Celeste was married this past March 2013 and enjoys hiking, ballet, classic rock, health food, (although her favorite foods admittedly are Philly Cheesteak and anything Italian!) and snow sports. She is the proud owner of a Nissan Leaf electric car and loves to talk about it!
Michelle Ochoa
Dental Assistant
Michelle Ochoa joined our office in 2007. Michelle is here to make sure that patients walk out happy, and with a big smile on their face. She graduated from San Fernando High School in 2006. After graduation, Michelle started working at her first dental office sterilizing instruments. As she gained experience, she became back office manager and moved into managing the whole office. She has been in the dental field for 6 years and loves what she does. Michelle enjoys the gym, spending time with her family, and she very much enjoys shopping!
Appointments

We know you have many choices when choosing a dentist in Encino, CA so we have made requesting an appointment a simple process by clicking the Request Appointment button to your right. If, for any reason, you cannot keep a scheduled appointment, or will be delayed, please call us as soon as possible.
Insurance and Billing
We accept most traditional insurance plans; contact our office to verify acceptance of your plan. We are happy to file insurance for your reimbursement as long as your benefit plan indicates that you are free to choose your own dentist. Dr. Tobin does not participate in Health Management Organizations (HMO); however, we will be happy to file your insurance claims for you. We accept checks, cash, or major credit cards. We also offer a flexible payment plan through CareCredit. Please see our Financial Coordinator for details.
Accepted Insurance Carriers
• All PPO Dental Benefit Plans • Delta Dental • Aetna • Met Life
Awesome!
I had a pain in my incisor that was exacerbated by my tooth whitening gel. Doctor Tobin filled the cavity and now the pain is gone. Also, I got to hear a great music playlist that he put together for our drilling session! Awesome!

- Jonathan B
Highly Recommend!
Dr. Tobin is always an exceptional Dentist. He is very caring and concerned about my good health and well being. He has a GREAT sense of humor. I love his professionalism and expertise.
I recommend him very highly!!
- David F
Awesome dental work!
The hygienist was lovely and very gentle, yet she did a thorough job. Dr. Tobin was awesome, as always, great staff, very clean and inviting environment, and awesome dental work! Pleased!
-Ashley S